Beautiful Tiled Conservatory Roof in Bolton in Lancashire . . .
If you are located in the Lancashire area then look no further than Roof2Room for your new tiled conservatory roof . . . .
If you are looking for a company that provides cost effective, energy efficient tiled conservatory roof replacements in Lancashire, then our Insullite lightweight roof is the perfect solution. We have many years of experience with conservatory roof conversions and we are specialists at removing your old roof and replacing it with a new lightweight tiled conservatory roof system.
The Insullite roof is designed to replace the existing glass or polycarbonate roof of a conservatory while retaining the original window frames. The conservatory roof system is a high performance insulated lightweight roof system comprising of pre manufactured light weight frame, multiple layers of high performance insulation.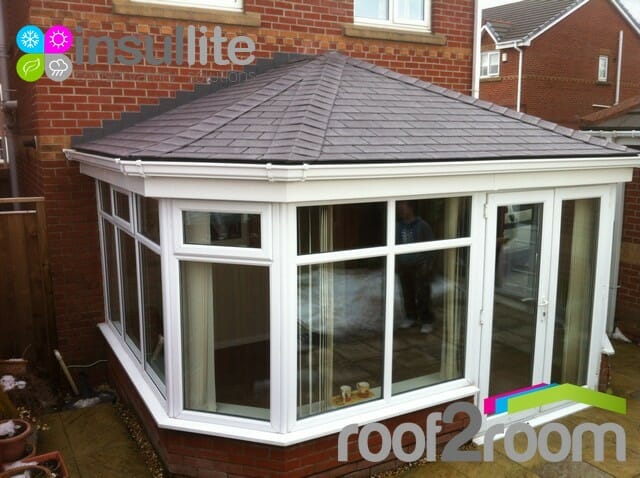 When you specify your new Insullite roof you are set to benefit from a highly energy efficient roofing system that has been specifically designed and building control approved roof system that creates you a dream living space. We can turn your conservatory into a beautiful new garden room which is cosy and warm in the winter and cool and comfortable in the summer. . . And it also may cost less than you think . . .
Our skilled and professional team are with you every step of the way, from initial concepts, choosing finishes right through to project completion we're here to build your dream conservatory roof conversion. All work is finished to the highest standard, we'll even remove all waste including your old conservatory roof from site once we've finished allowing you to enjoy your new Garden Room in peace.
The transformation you will benefit from is astounding. Not only will you greatly reduce the energy costs of retaining a moderated living temperature in your conservatory, but you will also have more occasions for spending time in your conservatory and fall in love with it again.
Request a Quick Quote . . .
To find out more information on our beautiful garden room conversions, please call the Roof2Room Team on 01706 825522.